Beginners
Your first practice is completely free! We also have a beginner package for £40 (worth £150)
Whether you have experience in different styles of karate, other martial arts or have never done anything like this before your first practice will be completely free, allowing you to see what you think for yourself. 
You must be over 18.
Saturday 9:30 – 11:00
Thursday 19:00 – 20:30
£7 per practice (capped at £35 per month)
£50 annual membership
Beginners Package £40 (worth £150)
1 year full membership to the KDS UK Organisation
1 year insurance cover
8 practice sessions
1 karate kit/Gi
1st Grading
Mulberry Academy,
Shoreditch,
Gosset Street,
Shoreditch,
London
E2 6NW
The closest tube stations are Bethnal Green (Central Line 15min walk or Overground 14min walk), Shoreditch High Street (Overground 10min walk) and Hoxton (Overground 8min walk).
We practice in the squash courts located in the sports centre of Mulberry Academy Shoreditch.
There are both male and female changing facilities with showers and toilets on site.
You are required to sign in and out at the reception on the appropriate register, ours is headed KDS Karate.
On street parking is available nearby, but check signs for appropriate parking restrictions.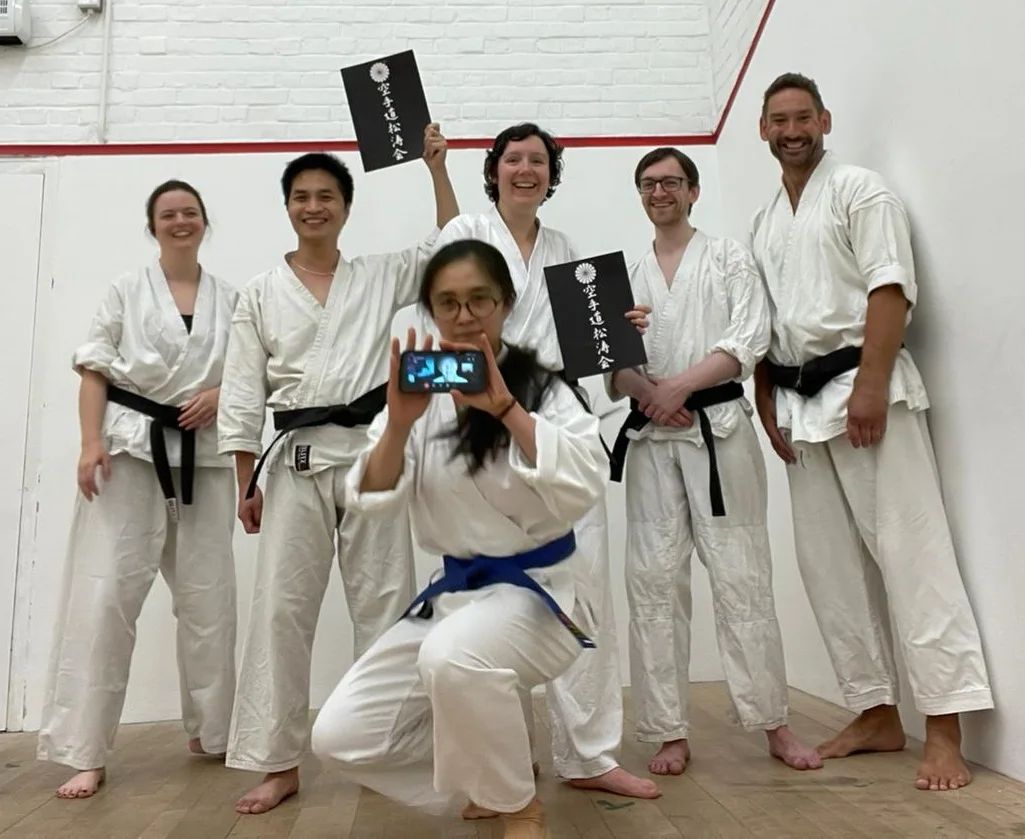 Reasons to try karate:
keep fit
build confidence
learn self defence
improve health
meet new people
Comfortable clothing: usually a t-shirt with tracksuit bottoms or yoga pants, but in the past has also included pyjamas –  you know what you feel comfortable in.
A bottle of drinking water.
A willingness to learn.
What to expect during your first practice
You will be asked to fill out a short form which will provide you with insurance cover for your first practice.
You will be asked if there is anything the instructor needs to know about you that may affect your practice or what you are able to do.
What our practices involve
Warm up
We begin with a warm up, this will vary depending on the planned practice but will normally involve getting your body moving and stretching.
Kata
We usually follow warm up with one of the many kata the KDS practices. This will normally relate to the planned practice for that session.
Main practice
The main part of the practice will usually involve moving  and maintaining a distance with a partner, punching, kicking, blocking, countering an attack and using the body to its utmost potential. The practices are dynamic, changing depending on the attendees and as such allows for experienced and beginners to practise side by side.
We usually finish the practice with slow speed kata, remembering what we have just been working on and allowing us to stretch out and cool down gently.
We are a friendly and sociable club, with a fondness for food. After our Saturday morning practice we walk a short distance to one of the many cafes found within Bethnal Green to get something to eat and a tea or coffee, a great opportunity to discuss our practice, look at upcoming courses and socialise.
As a KDS member you will be able to attend courses hosted by the other clubs within the organisation and our annual Summer School held each year in Canterbury. These courses allow members to train and socialise together, a great opportunity for improving your practice and meeting new people.