We're excited to launch our new website, where you will find information for beginners, a course calendar, and information on each of our clubs in the UK.
The focus of our new website is the recruitment of new members across the KDS clubs in the UK. 
With this in mind, we've tried to source fantastic and up-to-date images of our current instructors and practice. We've also made it easy to find a club, and to learn about our style of karate. 
The homepage features a news section, to advertise upcoming courses and share stories. You can also browse interviews in our article section. 
The new site is mobile friendly, and works equally well on all devices. 
The image featured at the top of the homepage will change periodically, as we take new photographs at courses and during our club practice.
The members area has not changed.
Club pages
Each club used to have several pages on a separate site, which sometimes fell out of date. This content has been consolidated onto a single page, and given a refresh.
We've gone for a single page because longer content consistently gets shared and linked to a greater extent. Web pages with lengthier content also rank higher on Google. Hopefully, our new club pages should be more visible to prospective karateka.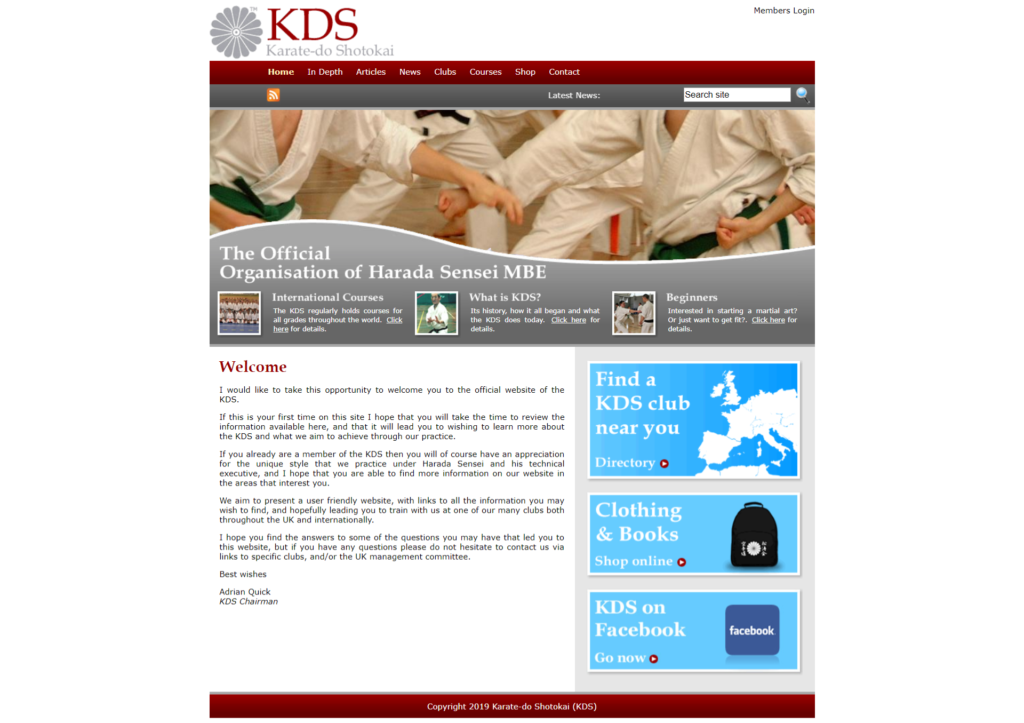 We'll be working on expanding the club pages over the next few months. 
All pages should include at least the following:
where and when to train
who the instructors are
a photograph of members
The Cardiff club page is a good example of what we should be aiming for. 
Winter School
During Winter School, the KDS committee will review how well the new site has performed, and will review feedback. 
If you have any comments or suggestions, please contact us.