There are still more men training in martial arts than women. This needs to change. 
Equality is not a women's issue, gender equality is essential for martial arts to thrive. 
A gender equal world can be healthier, wealthier and more harmonious – so what's not great about that?
So let's make it happen. 
Individually, we're all responsible for our own thoughts and actions – all day, every day.
We can actively choose to challenge stereotypes, fight bias, broaden perceptions, improve situations and celebrate women's achievements in martial arts.
Collectively, each one of us can help create a gender equal world.
We can all choose to be #EachforEqual.
Celebrating some of our senior female members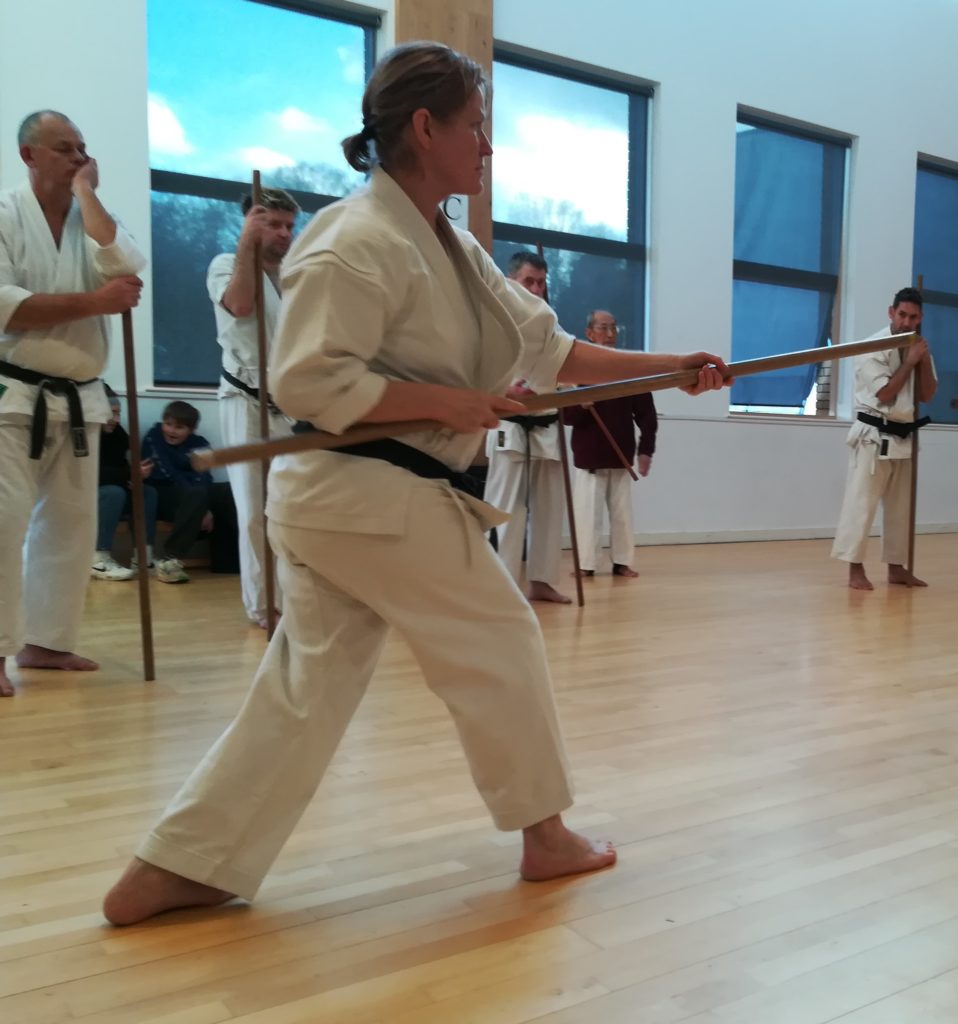 Marie Kellet
5th Dan
Marie is one of only two women to have achieved 5th Dan in the International KDS organisation.
 "I started training in 1974 in Coedeve School, Cwmbran. I started purely to learn self defence as I was bullied at school, so I went along with a school friend. She stopped after a few weeks, and I certainly never expected to still be training 46 years later!
Just after I turned 18 years old I was awarded my 1st Dan when attending Warwick University Summer School in 1978. At that time Harada Sensei lived in London and the strongest group of people training was in the London/Southampton area. Wales at that time was not very good technically. So a few times a month some of us would drive down to London straight from work to join the training session wherever Sensei was. Sometimes we would go for a drink after training and listen to the discussions between Sensei and the seniors of the day. Needless to say, it was usually the very early hours of the morning before we got back home.
When Sensei came to Wales for courses he would usually stay for a week, and on top of evening club sessions and weekend courses I would hire a room where I was lucky enough to train with Sensei one on one for two hours each day. Over the years the Wales group gradually raised their level and at last Sensei had some hope for us!
Since those years I have attended many courses in the UK and overseas with and without Sensei and I feel lucky to have had such opportunities to practise and meet with different clubs and people. These memories and experiences are precious to me, and have given me an extraordinary life".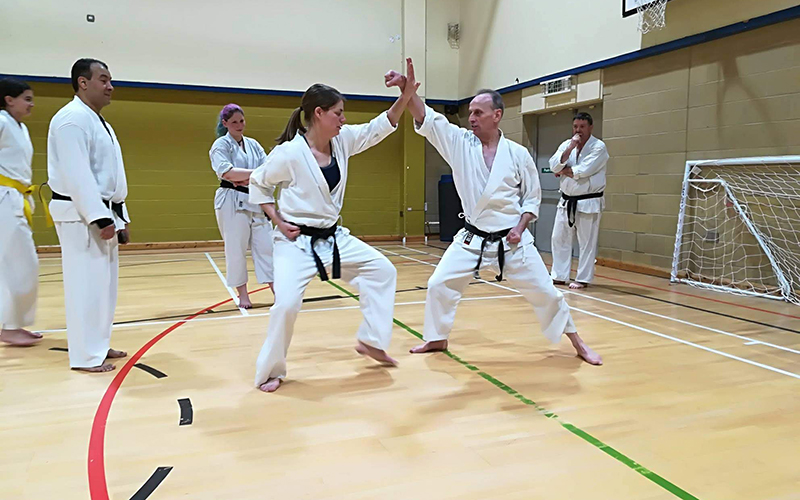 Susan 'Stratty' Stratton
2nd Dan
Stratty joined the club in 2010 and was awarded her 2nd Dan in 2019.
"I had fancied trying a martial art for a long time, and when I came to Cardiff to do a masters degree I decided it was time to give it a go. At the time there was still a Cardiff University club, and I chose Karate do Shotokai because they seemed the most relaxed and friendly club. I had always been put off by the idea of very regimented formal practices. The guys were welcoming and encouraging, and I was immediately hooked.
I certainly wasn't a natural. I was uncoordinated, had terrible balance, was massively self-conscious, and (if you can believe it) lacked aggression. A training partner once made me cry for insisting that I actually hit him! What I did have, however, was enthusiasm and incredible instructors, who were always pushing me, getting the best out of me, and inspiring me.
About a year after I joined the club my mental health deteriorated, and for several years I suffered from severe depression and self harm. Throughout all of this the support of the club was unwavering. Sometimes the only times I left the house all week was to go to karate practice, and it never failed to improve my mood. Karate, and the guys at the club, got me through a pretty horrible time, and it made achieving my 1st Dan feel like an incredibly special achievement.
My personal practice has suffered in the last year from work commitments, but I hope to continue improving. I also want to start instructing, and hopefully inspiring people like my instructors inspired me. My greatest ambition, however, is to not jump like a frightened rabbit when Senior Instructor Roy Margetts goes 'boo!'
I am so proud to be a member of Cardiff KDS. When I first started, and for at least the first year I trained, I was the only female member. Now, we have a nearly equal gender divide, something that is rare both in the KDS and sports in general. The next step towards equality is to get more highly graded women. It will take time, but hopefully we will get there."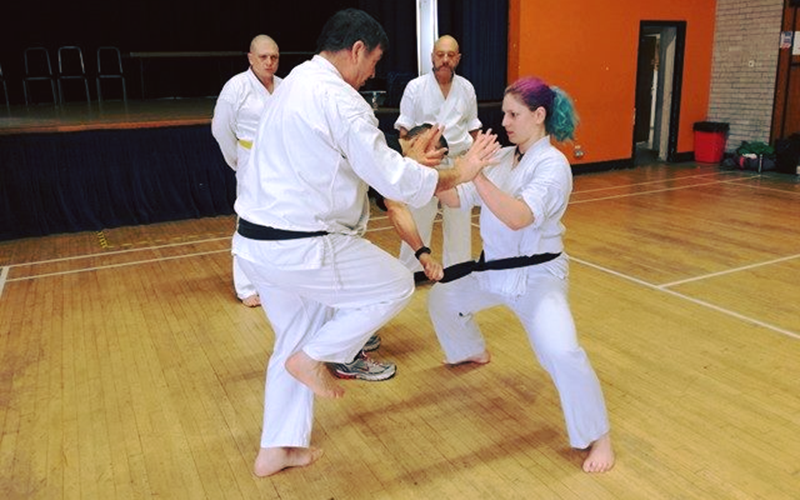 Rae "Sherlock" Pass
2nd Dan
Rae joined the Cardiff club in 2013, having previously trained at Keele University AU Karate Club – KDS since 2009.
Before starting at Keele she had been training in Shotokan karate, achieving a brown and white belt. She was awarded her 1st Dan in the KDS in 2013, and her 2nd Dan in 2018. 
 "I had always wanted to try karate, taking up Shotokan when I was about 14. I was really excited to carry on training at Keele. At first the difference in style took some getting used to but pretty quickly I came to really enjoy it. The focus on how your body is moving in relation to your opponent really stuck with me, and I jumped in the deep end for my first course, going to summer school, and have been hooked ever since! 
I am lucky to have travelled all over the country with both the Keele and Cardiff clubs, and having been training for nearly 10 years I feel like my club, and the KDS as a whole, is like a family. Our annual week long course in the summer is something I look forward to every year.
Even though training at the higher level can be quite challenging, it is really exciting and I am very proud of what I have been able to accomplish."