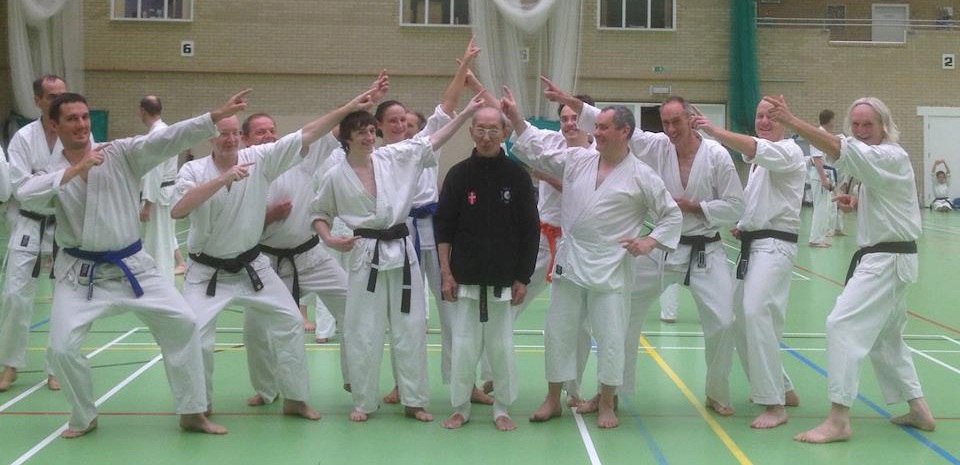 People join for all kinds of reasons, to have confidence in self defence, to get fit, to develop a positive attitude, to attempt a personal challenge… Whatever the reason for starting you'll find karate has much more to offer, both physically and mentally, than conventional sports and exercise.
We've been practicing in the Wymondham area for over 10 years. We are a mixed bunch from all walks of life and offer a friendly supportive atmosphere. Training sessions are disciplined, yet relaxed and sociable. We all encourage and help each other as much as possible because the one thing we all have in common is the desire to improve our karate.
Fun, fast and safe activities are emphasised for the junior group so young people can learn karate through building body confidence, concentration and self discipline.
Instructors are CRB checked, qualified in 1st Aid, full members of Sports Coach UK and have all trained with Master Harada Sensei MBE.
You don't have to be fit to start, we have no expectations of beginners' levels of fitness. We are careful to allow each person to work at their own level of capability and slowly build up from there.
Karate is open to everyone at any stage of their lives.
Email: norwichkds@gmail.com
Karate Do Shotokai is an ideal martial art for kids.
Fun, fast and safe activities are emphasised for the junior group so young people can learn traditional karate through building body confidence, concentration and self-discipline.
Instructors
DSB (previously CRB) checked
Qualified in 1st Aid
Fully insured
Full members of Sports Coach UK
Have trained for many years under the guidance of Master Harada Sensei MBE and the KDS technical executive
What makes us different?
KDS is a traditional martial art. This means we focus on traditional skills and understanding. We do not enter competition. We believe that competition is against the true spirit of martial arts. This is not to say that we do not physically challenge each other in training, but consider that as competition often has strict rules and regulations many techniques and skills cannot be demonstrated.
As junior members mature and their skill level increase they will be physically challenged to enable their karate to develop. This progress is well monitored and kids are given building blocks which help them to progress as individuals. We recognise that everyone is different.
Our form of karate relies on developing body confidence and understanding how the body can develop strength, flexibility and move efficiently. We welcome questions and always try to explain why a technique works so kids know how the physical side of karate makes sense and they can put this understanding into their own training.
The club is a non-profit making organisation. All fees go back into the club for the benefit of its members. The club has a monthly membership subscription which covers all insurance and grading and an attractive starting package.
The KDS grading system
For both adults and juniors the KDS belt system moves from white to black through the following colours.
Beginner = White Belt
6th Kyu = Red Belt
5th Kyu = Yellow Belt
4th Kyu = Orange Belt
3rd Kyu = Green Belt
2nd Kyu = Blue Belt
1st Kyu = Brown Belt
1st Dan = Black Belt
2nd, 3rd, 4th and 5th Dan = Black Belt
We have 5th Dan as our highest grade because traditionally this was the highest level which was awarded by Gichin Funakoshi the founder of Karate. Master Harada has held the rank of 5th Dan which was personally awarded to him by Gichin Funakoshi in 1956. Sometime you hear of people being 6th, 7th and even 8th Dans! These are honorary type awards given by different organizations to their experienced practitioners but are unimportant in grading terms and an 8th Dan from one organisation is not necessarily better than a 2nd Dan in another, this is why we stick with the traditional system.
Within this system the junior grading has specific criteria which means that a junior black belt is not the same as an adult black belt. Junior black belts are 1st Dan, but will be graded through the adult system when they are 18. When juniors become experienced practitioners or start to reach the age of 15 or 16 when they are physically maturing they will be invited to join some sessions with the adult group when the junior instructors are training. This experience helps their karate to develop and assists in the transition to adult practice.
Karate KiDS practice at 18.30 – 19.30 at the Willow Centre, Cringleford
Chief Instructor
Lyndon Tunmore, 4th Dan
Instructors
Martyn Cook, 2nd Dan
Mark Ebbage, 2nd Dan
Daniel Stevenson, 2nd Dan
Neil Cooper, 2nd Dan
Training times
Adult practice Tues 20:00 – 22:00
Adult practice Thursday 20:00 – 22:00
Junior practice Thursday 18.30 – 19.30
Location
Willow Centre, NR4 7JY